---
Sport and Nation receives LEading fellow grant
14 May 2019
 Christian Ungruhe will join the Sport and Nation project at ESHCC Christian Ungruhe (1979) is a social anthropologist working on topics in the realm of migration, youth, work and sport in West Africa. After obtaining his Master degree from the University of Münster (Germany) in 2005 he embarked on PhD project at Bayreuth University (Germany) that dealt with the relationship between internal migration practices and the negotiations of life phases among young people in Ghana. Beside this, he started to develop an interest in African football migration and worked in a project on the trajectories of West African players to Europe and their role in communicating and reinforcing images and racial stereotypes about Black people in Germany. After completing these projects he moved to Aarhus University to work in a postdoc project on after career life course trajectories of West African footballers in Northern Europe (2015-2019). His work particularly dealt with players' ambivalent experiences of precarity and their communication in transnational settings (e.g. with kin and friends at home). From November 2019 he will join the research group "Sport and Nation" of Prof. Gijsbert Oonk as Marie Curie LEaDing Fellow. In his project he will follow West African footballers who pursuit professional contracts in South East Asia. Undertaking a longitudinal approach, he will particularly work with players who he has accompanied since 2010 and looks at the processes of their social and geographical mobilities and subjectivities on the road and in the making. Selected Publications in the field of football migration:with James Esson (2017): A social negotiation of hope: male West African youth, 'waithood' and the pursuit of social becoming through football, Boyhood Studies 10 (1): 22-43.(2016): Mobilities at play: the local embedding of transnational connections in West African football migration, International Journal for the History of Sport 33 (15): 1767-1785.(2014): "Natural Born Sportsmen". Processes of Othering and Self-Charismatization of African Professional Footballers in Germany, African Diaspora 6 (2): 196-217. 
Save the date!
Sporters met een dubbele nationaliteit: Kansen,belemmeringen en debatten. Wanneer: 14 juni13.00
Waar: Stadion de Galgenwaard
Wie: Erasmus Universiteit in samenwerking met het Mulier Instituut
17 June 2018
Het congres zal om 13:00 beginnen.Na ontvangst met koffie en een dagopening zal een plenaire
sessie worden gehouden met drie gastsprekers die inzichten zullen geven
in de Sport and Nation thematiek.

Prof. Dr.Peter Spiro: 'The End of OlympicNationality'. Prof Spiro is werkzaam op de TempleLaw School in Philadelhia, Amerika. Hij is gespecialiseerd in internationaal, immigratie en constitutioneel recht
en is verschillende keren gequoteerd in de media bij zaken omtrent
internationaal en immigratie recht. Hij onderzoekt de legitimiteit van
het rekruteren van buitenlandse topatleten door staten. In zijn werk
stelt hij voor dat Olympische spelers zich zelf zouden moeten
vertegenwoordigen in plaats van nationale staten.

Prof. Dr. Marjet Derks: 'Paradoxes of Sport: Travelling Practices and International Rivalry'Marjet Derks is verbonden aan de Radboud Universiteit Nijmegen en is projectleider van het onderzoeksprogramma Sportgeschiedenis: 'Sport, identiteit en moderniteit (1813-2013). Centralethema's waar zij zich mee bezighoudt zijn transnationale beïnvloeding, de betekenis van sport en het publiekelijk vieren van overwinningen voor het nationale zelfverstaan, en sporterfgoed.
Gijsbert Oonk will deliver a key-note lecture at the EUROCLIO Initiative: Football: A People's History of Europe. Learning Local Football Histories: A Tool for Local Social Inclusion?
5 October 2017
The aim ofthis project will be to use the history of football and its clubs, to tell the history of Europe and build educational resources which connect local sports history to European events and rocesses. Creating this, EUROCLIO wants to make high quality vocational history and citizenship education with the aim of teaching multiperspectivity, critical thinking and broadening social inclusion. At the moment the project has three strands feeding into different needs and objectives.
1.  Football. A People History of Europe -EuropeanHistory Education through the History of Football. The aim is to gather content from all over Europe and to develop educational resources for Historiana.
2. ThePeople's Game: Teaching history, active citizenship and social responsibility through Iconic Matches. The aims is to touch large themes such as immigration, identity and ideologies and tie it to UEFA.
3. FootballKit: Promoting historical consciousness, historical thinking skills and citizenship through transferable tools that can work in every locality where students can engage with their local football history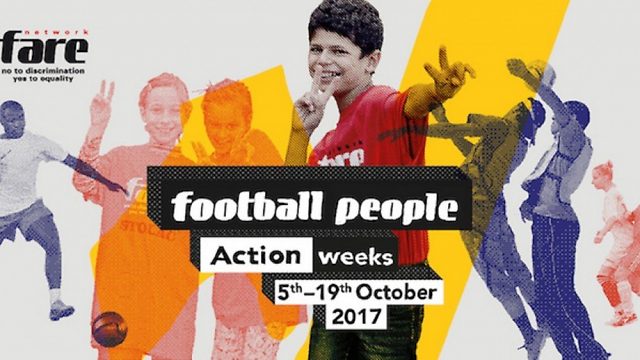 Sport and Society Conference
10 July 2017
Gijsbert Oonk and Gijs van Campenhout will introduce their projects at the eight international Sport and Society conference in London at Imperial College London.
See here.